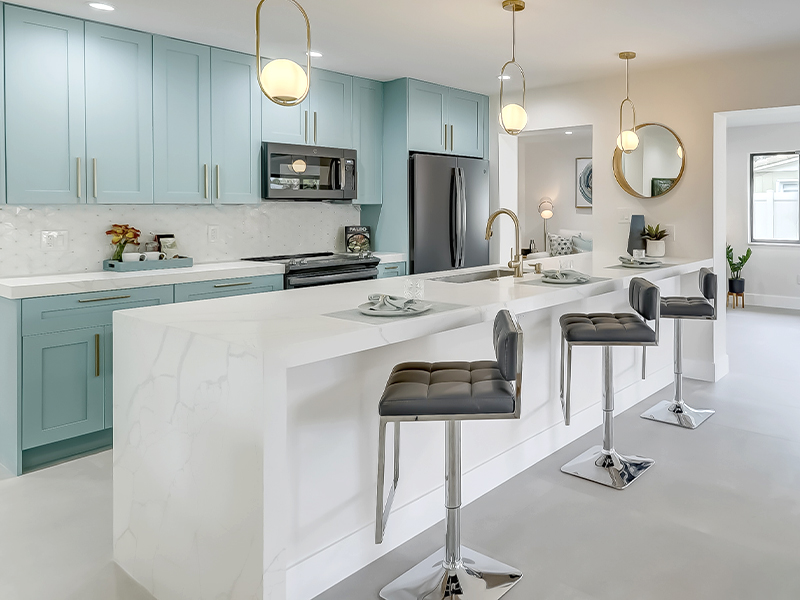 Trends in Interior Paint
Just in time for fall - out with the warm and in with the cool!
In today's real estate market, there is a trend that many sellers are overlooking. It's one of the most basic and cost-effective ways to increase the value of a home -- interior paint. What the studies are saying about millennial homebuyers as it pertains to preferences in real estate are true. Millennials are not looking to put sweat equity into their homes. They are looking for something that's move in ready; end of story. Millennial home buyers do not have the slightest desire to paint even one room, much less the entire house. Millennials are continuing to flood the market for both rentals and purchases, and they are willing to pay a premium for homes whose previous owners have made wise paint choices.
Cool is cool
Cool, light colors (greens and blues) can brighten a space that may have limited natural lighting -- or even make a smaller room feel larger. The trend toward cool doesn't stop at the cool light colors; experts are projecting a big comeback from bolder colors too. The 2022 HGTV Color Palette of the Year, titled 'Softened Refuge' is tranquil and restorative, and is a much needed refuge from the craziness of the last two years. Comprised of ten muted tones — including Color of the Year Aleutian — the palette boasts clean minimalism in sanctuary-like spaces. And let's face it Millennials love HGTV.
Not just for walls
The use of light, unexpected colors that venture off the "neutral" path of the past 10 years does not just stop at full wall paint either. Cool colors can be used for an accent wall, trey ceiling or accent island for a bold contrast in an otherwise boring kitchen. A good rule of thumb is to choose a color two shades darker than the other walls of the room. Or, consider painting cabinets a bold or cool color. Or even a tired old bathroom vanity. Jazz up the exterior of your home by painting your garage doors, front door and shutters -- or a combination. In the end, not only does a fresh coat of paint have the potential to make the room look and feel new, it can easily increase your demographic, foot traffic and the price a buyer is willing to pay for your home.