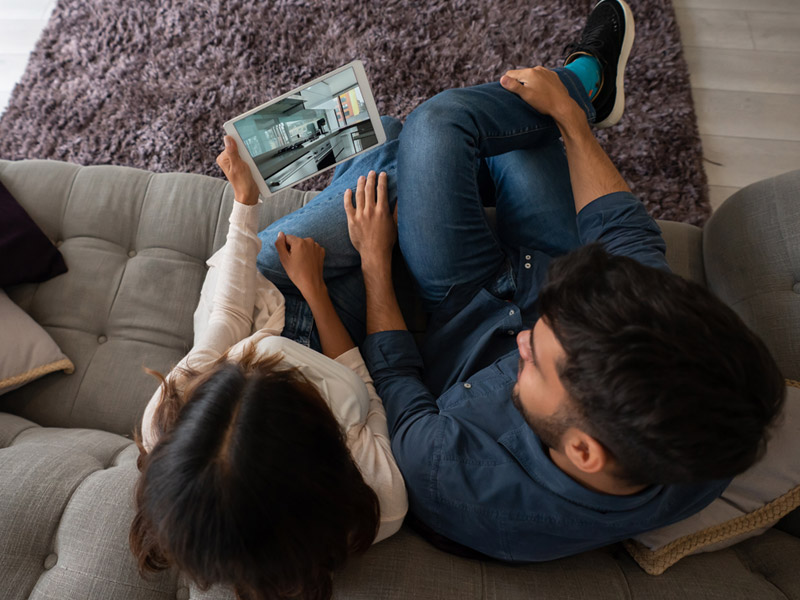 Tips for Navigating a Seller's Market
Throughout the last few decades we've seen many shifts in the housing market, specifically a shift in which side of the transaction the current market favors. There are many factors that can contribute to the ebb and flow of "power" between those who are looking to sell a property vs those looking to buy. If you've watched the news, seen the headlines, or have any friends looking to buy a home recently, you're probably already aware that we're very much in a seller's market. But, what does that mean and what are some ways those with one or multiple property assets in their portfolio can navigate this?
The seller's market is when there are more interested buyers on the market than the supply of desired houses. This can be very beneficial for sellers because it will result in bidding wars, multiple offers, quick sales, and in some cases, personal (and passionate) handwritten letters to the home seller explaining why they should be picked over any other buyer. Having a house that is in such high demand is something to strive for so make sure you are prepared to go up against your competitors when listing your properties.
Tips for Navigating a Seller's Market
Don't Pass on Renovations: The biggest way to benefit during this gold rush of a time in the seller's market is to make all of those renovations. Even though the demand for houses are so high, buyers are still looking for their dream home which results in being a little pickier with things like bathrooms and kitchens. Making the repairs can boost your chances of attracting the most amount of buyers possible when you put your property on the market.
There are tons of cost-effective ways to make renovations if you need to come in under budget. In fact, we wrote an entire article about it for you to check out here. Many buyers have been waiting years to buy a home so do not just put any product out there and expect it to get some grabs. Taking the time to update the property can make your return on investment even higher than expected.
Take a Close Look at your Offers
Tread carefully when you look at the offers put in on your properties up for sale. While we want the highest bidder possible, a seller's market will profit you more if you consider the offer from the person with the best financial stability. Because the market is very scarce with the number of properties available for buyers, some people will promise any amount to get their dream home when the sad reality is banks cannot extend such funds to everyone. While you want to ensure a buyer, you don't want to have to put the house back on the market if a deal falls through.
Remember Who the Buyers are:
While there may be an influx of buyers from all demographics, Millennials happen to make up 37% of the current home buyers market (Bankrate) and that number is only growing. Many of these millennials are first-time-buyers and learning as they go when it comes to navigating the buying process. Additionally, due to 2022 being projected as the "year of the baby boom", many buyers in the buyer's market are new or expecting parents. Keep this in mind when making renovation decisions. Check out this blog post we recently wrote to help guide you through this.
Social Media is your Friend:
While the market is very saturated and will continue to be throughout 2022, you want to receive the most offers possible on properties you are putting up for sale. Ensuring a high number of offers per property will give you the best chance of finding the most appropriate buyer. Some offers can come with contingencies or without pre-approval from the bank so if you gather a good group of buyers submitting offers, you can filter through and find the best pick for your property.
Once you have a great group of buyers, you can watch the bidding process begin and have the security of knowing your property is going to end up in the right hands. Marketing your property correctly will ensure the right group of buyers gets attracted to your listing. Posting on social media, Zillow, and other housing websites can reach a larger group of people that you might not have been able to grab the attention of previously. Utilizing these marketing tools can also help build your business in the long run. If you plan to expand your real estate investing business, it is best to have a loyal viewer base for when you put more of your properties on the market.
Return on Investment Paradise:
The seller's market is a beautiful place to be right now especially when you have properties wrapping up renovations and are about to hit this red-hot-market. Work with Property Masters and we will take the work off of your plate, while guaranteeing you'll see the highest return on your investment. Our team of skilled Project Managers and local vendors will provide strategic upgrades while keeping your timeline and budget top of mind.
While we are in a predominantly seller's market right now, keep watching for our latest news updates in case anything changes. The smartest thing you can do in the market is to keep educating yourself. Things move so quickly in our society we want to make sure our sellers are prepared throughout every change, trend, and news update. Contact us today to schedule an initial walk through of your property at 866-200-0110 or simply visit our contact page and a member of our team will be in touch.