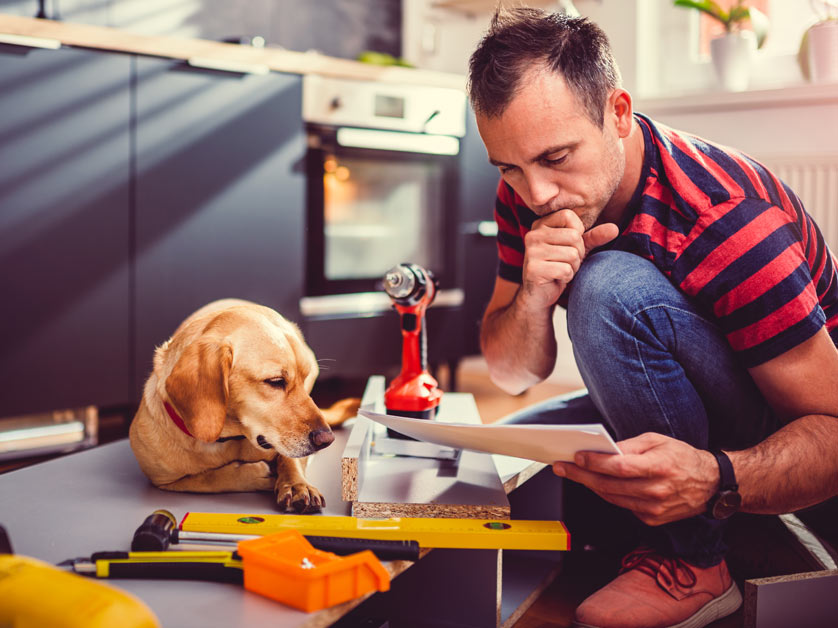 The Biggest Mistakes You Can Make During Renovations
Renovating can be the most rewarding thing you can do for your home or for the properties you own, but there is room for error. Making a mistake can happen from the original planning down to the execution, and property owners often wish they had done more research on renovating after it's too late. A part of what we do here at Property Masters is consulting with you on different projects that could improve the value of a home to ensure you start on the right foot. Whether it's a DIY project or you hire a contracted team to execute your plans, Property Masters knows a thing or two about avoiding catastrophes during renovations.
Setting an Unrealistic Budget
As a property owner, you know nothing drains a budget like renovations. However, renovation finances can be easy to manage when you have realistic goals and a team that knows how to stick to the budget you set. One of the biggest mistakes you can make before beginning a renovation is setting an unrealistic budget. Renovations are costly and you should prepare to save before renovating or have an income that can support different projects. There are tons of great ways to be creative in your saving methods, but before making a budget for the renovation project at hand, make sure to plan for a 20% increase in what you think it will cost just to be safe.
Ignoring the Structure
A sure-fire way to quickly derail a renovation is to adjust too much of the basic structure of the house. Redoing the support beams and finding the studs in your property can add countless hours to your project, pushing back the finishing date. Not to mention, re-doing the supports of a house can be the most expensive part of the renovation.
Buying Into Every Trend
It can be tempting to incorporate current renovation trends to attract new buyers, but it's important to remember the resale value of a home. While trends look stunning and can be an immediate eye grab, your property's value will last longer if you stick to timeless renovation choices and classic home additions that will wow buyers in any season.
Buying Cheap Materials
Don't skimp on the quality of materials used for your property. Although there are great ways to save during a renovation, materials like insulation, wood, and steel that make up the structure of a property are not areas where you should cut corners. If you do want to save money, items like an alternative island and cement, metal, or vinyl flooring are great options. One of the biggest warnings we can give to our sellers is not to pinch pennies when it comes to windows. The quality of your windows is something sellers will inspect during a showing and can be a major indicator of the quality of the rest of the house.
Updating the Wrong Things
Once again, think about the overall value of your home. If you are constantly going for cosmetic updates versus keeping the functionality of a property in mind, you can decrease the value of your home in the long run. Adding storage, windows, or extra space will almost always add value to a property. Stay away from things like a glamorous powder room or high-tech laundry room since those might not be features high on a buyer's list of wants.
Neglecting the Prep Work
Preparation is the key to setting yourself up for success. Whether saving up money to add to your budget or acquiring materials, it is crucial to prepare for each renovation. Delays in production are most often due to a lack of preparation because the contractors will continue to have to buy more materials and make multiple trips to get the proper tools and materials
Setting Unrealistic Expectations
Renovations are no small feat. Whether taking them on by yourself or with a team of contractors, they are a daunting task. Make sure you are setting realistic expectations for yourself so you can stay ahead of the curve during the project. You should account for becoming overwhelmed, especially if you are taking the project on yourself. Focus on the task at hand to move swiftly through your projects. Setting realistic expectations can come in handy, especially when the task is dangerous, so it's important to remember to assess your safety procedures. Make sure to take all of the necessary precautions to keep yourself and others working around you safe.
Instead of looking back at what you could have done differently, you should celebrate each successful project you complete. Properly assessing risks ahead of renovating can save you an immense amount of time and money. If you need further assistance, do not hesitate to give Property Master's a call. We have an amazing team of vendors that are waiting to help you. With our Green Diamond service guarantee and the determination from our vendors to produce quality work, you have ensured the best results possible. Unload your portfolio in no time when you have made all of the necessary renovations.