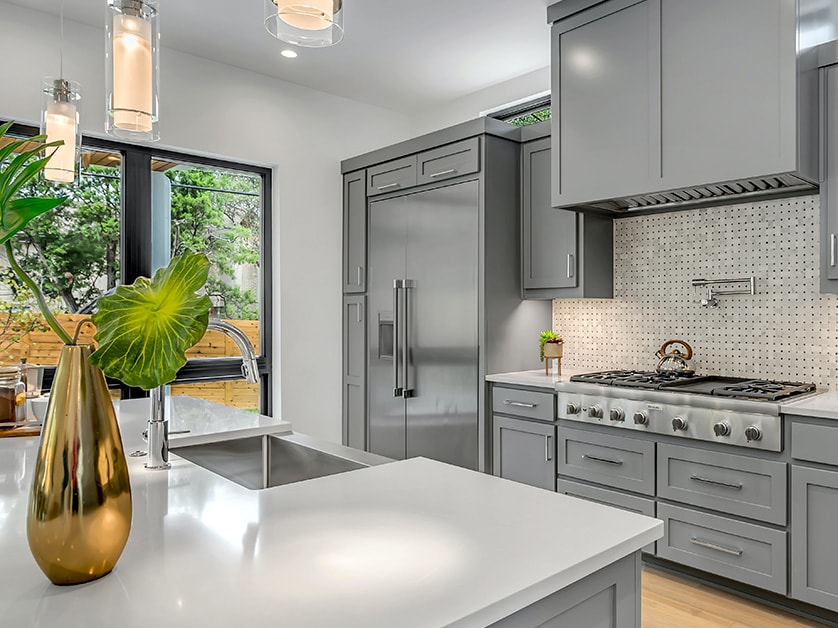 Six High-Value Renovations for your Next Property Flip
Every day that goes by while a property in your portfolio is off of the market is a day you're losing listing value. We understand, however, how daunting a full-property renovation can be, especially when you have multiple assets and a goal of yielding the highest return on investment, otherwise, what are you in this industry for? That's where we come in. With decades of experience implementing property upgrades and witnessing their re-sell impact, our team is confident these six high-value renovations have the highest chance of an impressive ROI. Renovations are going to get expensive no matter what, so it's important you know how and where to spend your money to bring you the most success.
Bathroom Flips:
The bathrooms of a home are one of the biggest attention grabbers for buyers. When you think about how much time is spent in that room, you'd place it high on your priority list as well. Bathroom renovations typically see a 102% value rating, keeping their worth for about 10-15 years, especially if you invest in nice, updated fixtures.
Landscaping:
If you have read our other blogs, you know we put a huge emphasis on the curb appeal of a property, and it can go a long way in the eyes of a buyer. The renovation investment percentage for landscaping yields a 100% ROI as it is an immediate attention grabber. Investing in landscaping doesn't have to be an expensive renovation either. Yard work can oftentimes be completed within the same day, so not only does it yield a high return, but it classifies as one of the quickest renovations.
Kitchen Remodels:
We know what you're thinking, DUH kitchen remodels will yield a high return on investment, but it depends on the amount of work done. The key to renovating properties in your portfolio that will yield the highest return is to be picky about where you spend your time and money. Sometimes you might not need to completely gut the kitchen and start from scratch. In fact, minor kitchen renovations yield 7% more than a major kitchen renovation would, according to Than Merrill of Fortune Builders. Minor kitchen renovations yield a 98.7% return on investment while major kitchen renovations only show 91%. Food for thought!
Outdoor Gathering Spaces:
Outdoor gathering spaces, such as patios, porches, and courtyards can diversify a property and add a WOW factor, giving people more space to gather, eat and enjoy time with friends and family. This specific feature only became even MORE in-demand after COVID-19, and its popularity shows no sign of slowing down. Adding this or renovating a current porch can yield a 90% return on value, making it one of our top renovations for your property.
Replacing the Windows:
Windows are one the most important features on a property, not only for looks but for efficiency and workings of the house. Yielding an average return of 86.9%, fixing your windows is an easy decision to make. Buyers will be able to tell right away if a window is working properly, as they are dead giveaways to leaks and cracks. Old windows often leak air, making it difficult to sell if you have this problem (no one wants a cold house or a high heating bill). Depending on the season, your heat or air conditioning will go right out the window (literally). Windows can make or break the look of a property as well, and as we know, first impressions are everything. If the windows are even slightly dented or damaged, it should be the first thing you replace and renovate for the property.
Basement Remodel:
If you have a property that has a basement, do not overlook renovating it. This is often where the laundry is or storage is kept, but people don't want an ugly basement. This could become another room of the house and a huge selling factor being that not all houses have basements. Basements have so much potential in the eyes of a buyer and it can be an exciting addition to any future homemaker. Turning it into a liveable room of the house could make or break the value of the property. Basement renovations yield an average of 90.1% return on investment. Whether buyers are going to turn it into the kids' hangout area, a man cave, office space, or a she-shed, it can be one of the highest yielding assets of the property.
Renovating does not have to seem like a daunting task while you are trying to get your properties back on the market. Make sure they are ready to sell fast and get the best ROI by partnering with Property Masters to make strategic, high-value decisions with you.
If you have a property you want to renovate but aren't sure where to begin, make sure to schedule a walk-through with a local Property Master's Project Manager and we can help you decide what the best bang for your buck is based on your asset. You will never go wrong when you decide to renovate, and when you have some help on your side, the possibilities are endless.