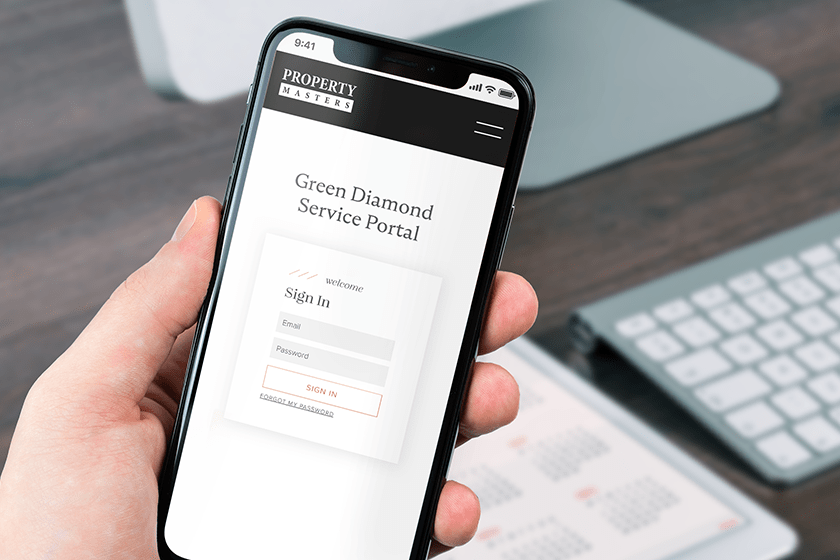 Green Diamond Portal: An Innovative Platform for our REO and SFR Clients
Property Masters' commitment to communicating with our REO, SFR, and real estate partners, along with our passion for innovation, has led to the creation of a new platform: the Green Diamond Portal. Currently in development, we have plans to launch this exciting communication tool soon.
This portal will allow us to ensure that your project stays on schedule and within the set budget. This allows for your property to be ready for sale or rental faster, leading to increased ROI for you.
Green Diamond Portal
Our Green Diamond Portal makes it easier than ever to get project status updates. It's an extension of our Green Diamond Service and part of our overall commitment to concierge-level service. This all adds up to what makes us different from other real estate renovation companies.
Our Green Diamond Portal is an industry first: no one else in the industry has a back-end portal to show their clients the progress of their jobs at this level of detail. It will allow us to provide clear, concise, and timely communication at a level that is unmatched in the remodeling industry.
Custom Dashboard
Once you sign in to the portal, you see your main dashboard. Here you can view all of your projects in one place. Every project address is listed, along with a photo of the property.
You can view Open projects, Closed projects, or All projects. There is also a search bar if needed.
At a quick glance, you can see the Job Due Date and the Expected Completion Date for every project. The overall status of the project is shown, with the total number of tasks, as well as how many have been completed.
The Project Manager's contact information is also available here. You'll never have to wonder who you're supposed to contact or how to get in touch with them.
Once you select the project you want to view, all the data associated with that renovation is displayed. We even break down the status by categories, such as appliances and flooring. We also list whether water, power, gas, and heat/ac are on.
If there are any messages from our Project Manager, you can view those here, to quickly resolve questions or issues that might arise. And see contact information for every Project Manager on each of your renovations.
Status of Every Line Item
We list every line item that is to be performed for your renovation. A single project could have hundreds of line items. All of them will be listed here, along with the status of each task.
We show the status of all items completed, items in progress, and items not started. You can also view all images associated with a task.
Photos are Automatically Uploaded
Our project managers are onsite at least once a week, taking photos of every task as it is in progress and completed. Every photo taken by our Project Managers is automatically uploaded to our system. The photos are then made available for you and your team to view on our portal at any time.
Should you need to discuss the status of any task, or make a change to any task, you can review the photos in order to know the exact details of every job in every project. These photos are available to you 24/7.
Innovation for Our REO and SFR Clients
As we continuously strive to deliver better results and ROI for our REO, SFR, and real estate agent partners, we can't wait to launch this innovative platform. Not only will it keep our clients informed about their project's progress, but it will improve overall communication.
If you have a property renovation project and want to partner with an innovative industry leader, please contact us and speak with one of our team members. We'll be happy to answer any questions you have, review your property's needs, and get started on a new project as soon as possible.