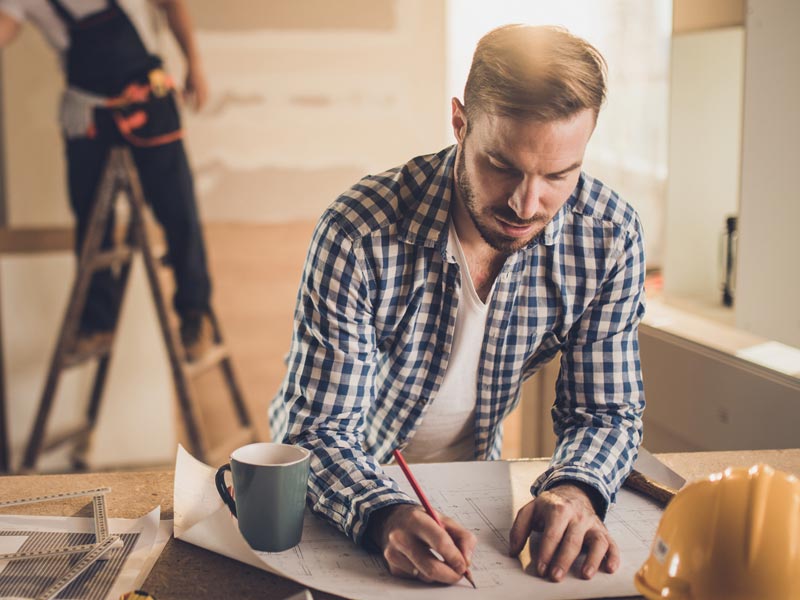 General Contractor Job Description
The primary function and responsibility of a general contractor is to be the person that oversees all construction project activities from groundbreaking to final HVAC installations. Their duties range from in-field scheduling and support, to supervision of all subcontractors. Not all construction projects will have a general contractor. Some renovation and remodeling projects may simply employ the different subcontractors or multiple contracts, each hired by the property owner.
But, the beauty of the general contractor is that the work and decision-making responsibility is taken away from the owner and put into the hands of a single point of contract that will serve as the project helm.
This general contractor job description will be helpful for any tradesman, journeyman, student, engineer, or business professional looking to manage construction projects from start to finish.
Required Education
While there are no formal educational requirements to become a General Contractor, the job does require a high level of construction industry knowledge and you'll need to secure a General Contractors license in the state you plan to work in. If you are just starting out, fulfilling certain educational paths will make it more likely you can become a general contractor faster, skipping the years it would take to move from being a construction worker to a construction supervisor/manager to a general contractor.
The educational options are:
Start with a high-school diploma or GED
Complete an apprenticeship program in one of the various crafts typically offered by local unions, such as an electrician, carpenter, or plumber
Obtain a two- or four-year college degree in engineering, architecture, construction management, project management, or building construction
Consider a double-major to obtain a business management degree with a minor in engineering to learn both technical and business skills.
Field Experience
Direct work experience in construction is always required to rise to the level of general contractor. After all, who would hire a general contractor to build a home when that person has never worked on a construction project before? Many general contractors would have started quickly after high school working at various construction labor jobs to learn more about their chosen trade.
Even though general contractors are in charge of the various subcontracting trades such as electricians and plumbers, the best field experience will typically involve the erection of residential or commercial structures. Therefore, carpenters, steel erectors, and concrete or masonry trades are the best avenue to take since the electrical/mechanical trades are so specific to interior finishing - not building.
License
In order to secure your General Contractors' license, you'll have to pass an examination that covers business management competency. Every state has a different process and requirements but it typically includes a criminal background check, and ensuring you don't possess any outstanding open contracting grievances. A licensed contractor has worker's compensation and liability insurance for his or her employees and can secure building permits.
Job Duties
Consult with clients to detail project milestones, delivery date, budget, and project scope
Estimate project costs and plan details of the entire project schedule from start to finish
Review all construction floor plans and determine equipment, manpower, and materials needed
Hire and manage all subcontractors and make sure everyone adheres to building codes
Applies for all necessary building permits and is also licensed and state certified if required
Maintains constant communication with clients for project updates and field changes
Residential general contractors build homes, apartments, and housing developments, while commercial general contractors build structures that support a business or organization. Therefore, the skills required for each are the same, but it is best to be highly experienced working with one type of construction project. These skills required are typically learned over time while working on both large and small construction projects and then moving into supervisory roles.
The skills required are:
In-depth knowledge of construction, building materials/equipment, and blueprint reading
Knows how to manage time, different teams, and construction material vendors
Has excellent communication skills to relate to crew members, engineers, and owners
Must be detail-oriented in technical matters and have a keen sense of architectural design
Can manage a budget and supervise various groups of construction crew members
Has first-hand knowledge of local and regional building codes
General Contractor Salaries
General contractors or construction manager's pay will differ depending on years of industry experience and the state you work in. According to the Bureau of Labor Statistics, the 2020 average pay for a construction manager with a bachelor's degree was $46.72 per hour or $97,180 per year.
Compare this to the $82,320 average pay for an architect and $88,570 for a civil engineer, and you can see why becoming a general contractor is so attractive to those that have worked in the construction industry for many years.
Employment Outlook
The number of general contractor jobs in 2020 is estimated at 448,000. This industry is expected to grow faster than average at a rate of 11% per year, adding 51,400 new jobs by the year 2030.
A general contractor job is a great career for anyone who loves working within the construction industry, has a knack for communicating with people, and can multitask extremely well.
Build your field experience by working with Property Masters, one of the leading property renovation companies in the nation. We partner with the best people in general construction and specialty trades. Learn more about becoming a vendor partner here.