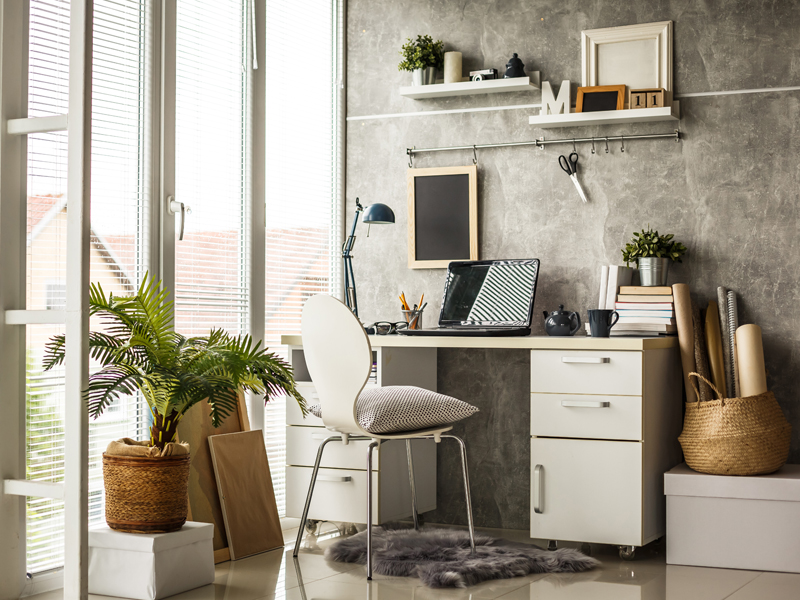 Five Home Trends for 2022 to Incorporate Into Your Next Renovation
The past two years have been some of the most unexpected times of our lives. Retreating into our homes during a pandemic was an experience no one was ready for. Whether you were with your entire family or in an apartment by yourself, being at home has been the majority of our lives these days. With some normalcy of life returning, many people have been revealing in-home renovations they have had done to make their house feel more like home. The importance of creating a safe place has skyrocketed as people's focus shifted from commute times and work hours to home improvements and downtime with family. 2022 is expected to keep the foot on the gas when it comes to home renovations so we want to deep dive into the emerging trends that are soon to be the hottest topic in home improvement. Check out five home trends for 2022 to incorporate into your next renovation, below!
Functional Home Office Spaces:
If you really want to impress a buyer in 2022, create a designated space for a home office in your next property renovation. The realization that being back in an in-person office is still not going to be happening any time soon - if at all - has hit people hard. A new buyer could be impressed by incorporating this small feature into any property. Unused areas around the house could be converted into a workspace with the use of some aesthetic shelves or a built-in desk unit. Designing this kind of space could be a great selling point as many people are needing the privacy to work away from the core areas of the house. If you don't want to build a desk unit during renovation, don't hesitate to demonstrate one of the rooms as a potential office when showing the property to potential buyers. The versatility that a home office brings to a property is becoming unmatched and is essentially upgrading the cost effective selling point for any buyer.
Improving Outdoor Spaces:
On the other side of everyone having to retreat into their homes during a pandemic, now some people want to get outdoors. Renovating a backyard can be like adding a new room to your property. The extension of having somewhere to sit, be with family, eat or simply enjoy the fresh air has emerged as one of the newest needs for homeowners. Some simple ways you could improve the backyard of any property are:
A new layer of grass
Adding a designated outdoor seating area for homebuyers and their guests
Installing a gas fire pit for easy use and a nighttime activity
Landscape design to improve the look around a backyard
Safety measures such as fencing around the parameter
Revisiting the Open Concept:
Okay, we never thought we'd say this, but if you are considering knocking down some walls in your next renovation you may want to rethink that plan. While an open concept floor plan has been on the top of the wishlist for many buyers, some people have shifted their focus to wanting more private spaces and rooms. Americans are split on open-concept homes, with 51.2% preferring an open layout and 48.8% preferring a traditional layout – a nearly 50-50 split. Experts point to the pandemic accelerating this trend. (Rocket Homes) A lot of younger families love an open concept but the ability to close some doors for alone time has become a huge priority since the beginning of 2020. If you're able to have an open floor plan between the living room and kitchen but keep some other spaces closed off for privacy that will give your homebuyers the best of both worlds.
Matte Black Finishes:
Out with the chrome, in with the new! Matte black finishes have become the new face of luxury for bathrooms and kitchens. From sink faucets to shower wall lining to drawer fixtures, buyers are loving the classic look that a matte black finish brings. A great way to accomplish this with a tight renovation budget would be to hand paint all of the cabinet pulls in a kitchen or check out a local mom-and-pop hardware store for packs of black handles. Benjamin Moore makes a great matte finish interior paint that could assist in this renovation upgrade. Matte black helps a space to look cleaner for longer and gives a timeless look to both the bathroom and kitchen.
Don't Skimp on the Bathroom Budget:
Bring the spa to any buyer this year by making the bathroom an oasis during a renovation. Free soaking tubs, rain showers, and built-in vanities will make any bathroom the most desired room in a property. Since the master bathroom is the last destination during most house showings, leave buyers with a wow factor. Refreshing tile colors and natural light are some other great ways to make the bathroom feel like an entirely new entity of a house.
Some additional prominent trends we're seeing with home renovations in 2022 are kid-friendly upgrades and eco-friendly options. We've written some detailed blog posts about these topics so be sure to check them out.
If you have a property sitting in your portfolio you're ready to sell but don't know where to start, contact the Property Masters team, today. We will work as your designated partner to implement innovative and new renovations to ensure you get the highest ROI on your asset. Give us a call at (866) 200-0110 or visit https://propertymasters.com/contact/ and a member of our team will be in touch.