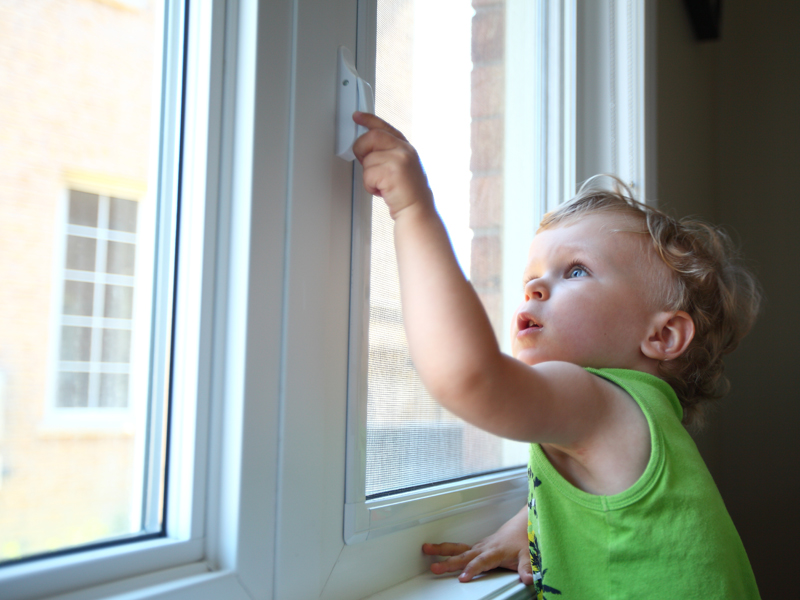 Five Childproof Home Upgrades to Appeal to Millennial Buyers
When making renovation choices for a property, there are many things you want to consider. Will this have good resale value? Are these design options still popular or outdated? These are important questions to ask yourself, but here's one you might not be considering and why it could be one of the most important ones yet: Is this property childproof?
Business Insider recently reported that there are early signs pointing to 2022 being the "year of the baby boom". And, with many of these expecting or soon-to-be-expecting parents belonging to the millennial generation, property flippers across the country should be paying close attention to this. Why? Millennials happen to make up 37% of the current home buyers market (Bankrate) and that number is only growing. Catching on yet? To help you make strategic renovation decisions, here are five childproof home upgrades to implement with your next renovation.
Opt for Smudge-Proof Appliances
Unless you think future home owners will enjoy tiny handprints all over their chic, brand new kitchen appliances, then opting for a smudge-proof oven, refrigerator, microwave and more will be the best choice for buyers in 2022. Smudge-Proof™ is a protective coating that is applied directly to the stainless steel appliance that resists fingerprints and cleans easily. While it's a more expensive option, imagine the look on your future buyer's face when you tell them their new kitchen can be finger print-free!
Install Childproof Flooring
Floors are also one of the most important features to consider when renovating a property with children in mind. Babies spend most of their time crawling around on floors so safety must be a priority when selecting flooring. Floors are usually the first victim to a toddler's mess. From juice spills to scratches from toys, there are many scratch-proof options that are relatively easy to clean that will appeal to millennial parents.
Laminate Flooring: While it's not as "high-end" as hardwood flooring, you can often find laminate options that look incredibly similar to hardwood. Unlike hardwood, laminate has a protective scratch-resistant layer and is indentation-resistant with a high or medium-density fiberboard (MDF). While hardwood has excellent resale value, it's only as valuable as the condition it's in and would be a lasting concern to maintain for homeowners with small children or pets.
Luxury Vinyl Plank or Luxury Vinyl Tile Flooring: LVP or LVT flooring is also an affordable alternative to hardwood that is water-resistant and the least likely to grow bacteria due to its non-porous nature. Keep eco-friendly options such as phthalate-free in mind when choosing vinyl to ensure you have the safest, cleanest version.
While carpet is the softest option, it is also the hardest to keep clean. And while hardwood has the highest resale value, it's the hardest to keep scratch-free. If you do have these options in your property, stage it with large area rugs when it is on the market so that parents can visualize ways to maintain their less child friendly flooring options. Or, of course, choose laminate, LVP or LVT flooring options when renovating for the ultimate child friendly home.
Add a Fence in the Backyard
The pandemic brought on many changes in home trends, one of the most popular being more usable outdoor space and Realtor Magazine doesn't see this going away any time soon. "Having a yard or balcony gained ground during the pandemic and remains a big draw for buyers. As homeowners spent more time outdoors, their wish list for that space evolved." One of the biggest items on an outdoor yard's wish list is safety features. The more time homeowners spend outside, the more privacy and safety become an important factor. One of the best ways to achieve this is by installing a fence around the property. This will not only provide increased privacy, but also a safeguard so young children don't wander off. Millennial parents often have pets as well, so this is a great selling feature to keep their fur babies safe too.
Use Window Guards
While screens are a great way to keep bugs out of your home, they're not always strong enough to prevent a person from falling through a window. CBS recently reported that an average 5,000 children are injured each year as a result of falling from home windows. So, what can you do to ensure optimal childproof windows that will appeal to a home buyer in 2022? Install window guards. Window guards are a metal device that fits along the bottom half of a window to prevent it from being opened more than a few inches. They're not only designed to decrease the risk of children getting out of a home, they also prevent criminals from getting inside. Having window guards, at least on your second story windows, are an excellent and cost effective way to childproof your property and attract homeowners with young children.
Install Cordless Blinds
Another window feature that poses a potential danger for young children are window blinds. When a parent of a newborn or young child is touring a property you can assume they are accessing every possible risk factor each room holds. The moment they see long blind cords the thought of a child potentially getting tangled, or worst case, strangled, comes to mind. Put these home buyers' minds at ease immediately by offering cordless blinds. These days there are all sorts of options when it comes to cordless blinds from wood to bamboo to roman shades, so you don't have to sacrifice design for safety.
Property Masters would love to be your premiere partner on your next property renovation. Our team of strategic project managers are adept at keeping the current home buyers market needs top of mind, while considering longevity and resale value. Contact us today to schedule an initial walk through of your property at 866-200-0110 or simply visit our contact page and a member of our team will be in touch.