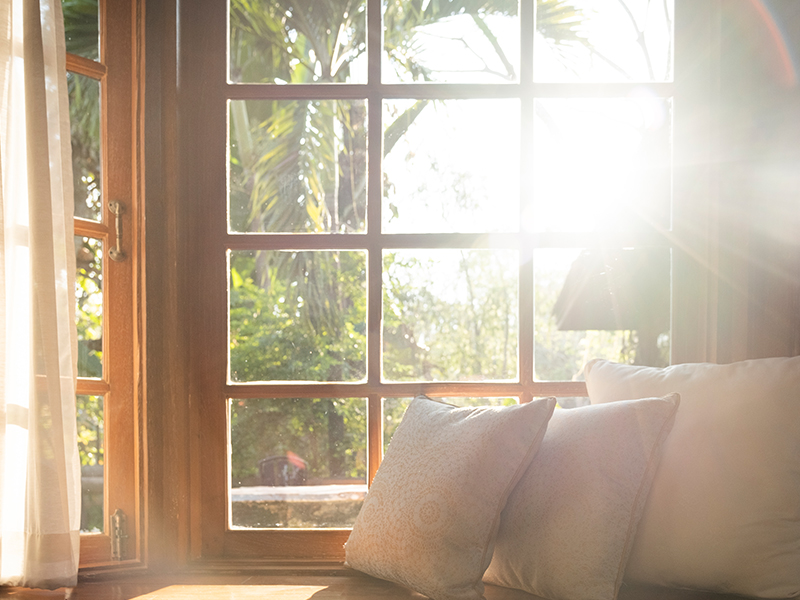 Cost Effective Upgrades for More Zen
There is no doubt that the last two years took a toll on every aspect of peoples' lives and left a majority of the world struggling with unstable physical, mental and financial health. Our homes became our offices, gyms, schools, restaurants, theaters and more. Since people have been spending a majority of their time within the same few walls, it's become increasingly important to prospective buyers that their home serves as a place of wellness, serenity and calm. There are many renovation and design projects that will provide functionality and guarantee the ultimate "zen" home experience, so we can get back to focusing on re-building our lives. Here are some of Property Masters' top cost effective upgrades to bring comfort and tranquility to a property.

Welcome more natural light into a home
Did you know that exposure to sunlight is thought to increase the brain's release of a hormone called serotonin? Serotonin is associated with boosting mood and helping a person feel calm and focused. (Healthline.com). There's a couple of ways to do this depending on your budget. The first is to optimize the amount of sunlight that enters your home through your windows by trimming any outside bushes or trees that could be blocking the sun. If your budget allows, consider a professional window cleaner. Secondly, select light colored design elements like paint, flooring and furniture. The natural sunlight will bounce off lighter shaded interior elements and create a sense of openness.

Incorporate natural and organic elements into the design choices
Humans inherently connect well with nature because of its ability to make us feel calm and at peace. The pandemic drastically limited our ability to spend time outdoors so the desire for a natural environment is stronger than ever. Wood is an excellent option for a homeowner or renter looking to incorporate peaceful and calm vibes to a space. Whether it's replacing cabinets with a sustainable light wood option or adding a couple of reclaimed, rustic wood beams to a ceiling, it is sure to instantly bring warmth to your home. If you are on a budget, there are laminate options that will provide a look of natural wood without breaking the bank. Stone is another material you can use to remodel a space. Consider adding stone details to your shower or replacing an old fireplace with a new stone finish.

Change up the walls with some quick updates
This is one of the easiest and cost-effective ways to rejuvenate a home. Considering a lighter paint option will instantly brighten up a space. If you feel like you are in a creative slump, adding an accent wall with some temporary wallpaper or a calming complementary color can completely change the energy of a room. This could be a great option for a home office, or a space you're converting into a "home office". For a serene effect, light pastel shades of blue, lilac, green, and surprisingly, pink, are sure to give you the ultimate pop of calming color.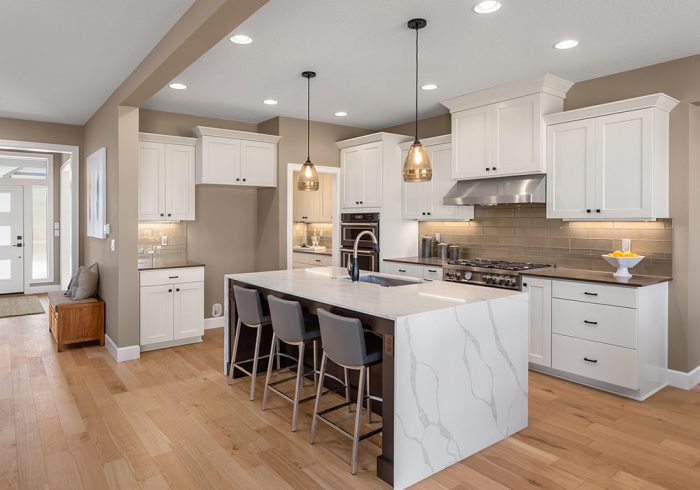 Replace hectic and busy materials with more calming options
While granite countertops in the kitchen and bathrooms have been a popular option for years, granite has a lot of movement in it. Finding a clean and consistent pattern is unlikely, whereas an alternative, such as quartz, will offer many simple, sleek and minimalist patterns without sacrificing durability and design. When looking to upgrade materials in a home, consider options that will make a room feel tranquil and still, not hectic or busy.

Get creative with how you use a space
Okay, this might be the most cost-effective upgrade of all to bring comfort and peace to a home. Re-designing an existing space or relocating certain rooms or aspects of a room can bring the ultimate sense of rejuvenation to a home. All you need is a good imagination! Whether it's cleaning out an old closet to turn into a small playroom, converting that corner of the living room you never use into a minibar or adding some shelves or a bench to turn an empty space under a staircase into a reading nook, the design options are endless.

Install proper HVAC systems and air purifiers to ensure clean and healthy circulation
Many of the renovation and design options we've outlined are sure to boost one's mental health, but we can't forget about physical health as well. We've been inside breathing the same air for over two years now so ensuring your HVAC and air purification systems are clean is one of the most important updates you can make to guarantee optimal respiratory health for the future family residing in the residence.
Property Masters would love to help you with your next property renovation project. We guarantee to suggest low-cost, strategic (and serene) design options to bring wellness and calm back into your home so you can focus on getting your life back to normal again. We look forward to hearing from you! Please contact us today to schedule a consultation.